Take your first step today...
At Luton Adult Learning, we hear so many inspiring stories from our learners about how coming on on of our courses has made a difference to their lives.
Here are just a few of the learners who have shared their stories with us: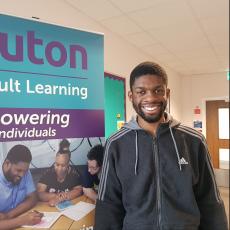 Welcome to Luton Adult Learning
Empowering individuals, improving communities.
It's our aim to make all learning accessible and relevant while being an enjoyable and stimulating experience for all of Luton's citizens, communities and employers.
In a recent Learner Satisfaction Survey, 99% of learners would recommend us.
We endeavour to provide our service to all equally and without prejudice, but the welfare and safety of our customers, staff and other occupants is paramount and cannot be compromised. Our service is located on the 2nd floor of a multi storey building and access is provided through elevators. However, in the event of an emergency evacuation the elevators are not available and the only means of escape is down stairways.
The Regulatory Reform Fire Safety Order 2005 places a duty on us to have a robust plan to ensure that all occupants of our premises are able to evacuate to a place of safety. In regards to this duty we need to ensure that, as far as is reasonably practical, all persons are able to make their own unaided escape from the building and, where this is not possible, that we look into alternative ways in which assistance may be given to achieve escape. However, this must not delay the escape of other occupants or put any persons providing this assistance at increased risk. We will always discuss options with customers, staff and other occupants that require assistance but ultimately if we cannot ensure their safe evacuation we have a duty to prohibit them from the building for their own safety and to investigate if there is any other practical way we can provide access to our service without them entering the building.
This year, Children's Mental Health Week took place from the 1st - 7th February 2021.

If you're an EU, EEA or Swiss citizen, you and your family can apply to the EU Settlement Scheme to continue living in the UK after 30 June 2021.